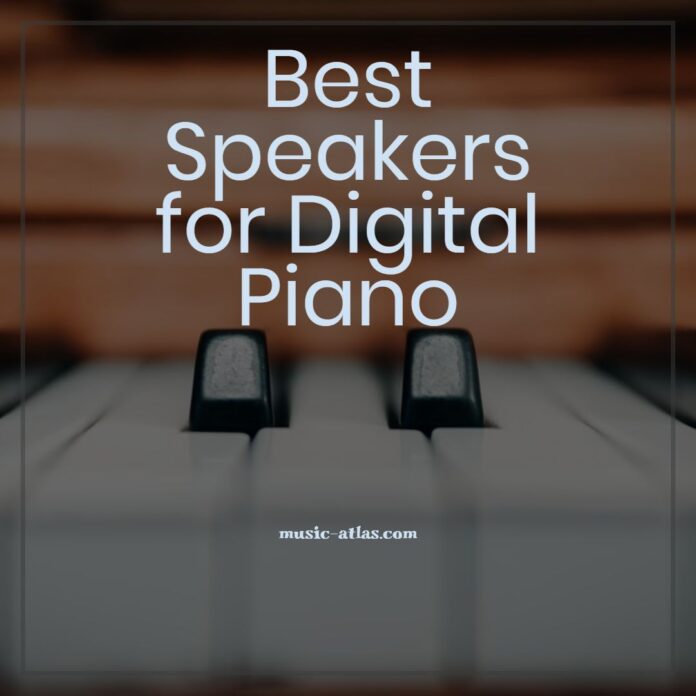 If you are in the market for the best speakers for a digital piano, there are numerous options to go for in today's rich and versatile market. Since digital pianos have taken over the industry lately due to their versatility and compactness, you are sure to find the product that will suit your needs if you devote enough attention to details.
Image
Our Pick
Amazon's Choice
Good Pick
Don't Miss
Name
PRORECK Party 15 Portable 15-Inch 2000 Watt 2-Way Powered PA Speaker System Combo Set with...
Mackie CR4-X Creative Reference Series 4" Multimedia Monitors (Pair)
Edifier S2000MKIII Powered Bluetooth Bookshelf 2.0 Speakers - S2000MK3 Near-Field Active Tri-Amped...
KRK RP5 Rokit 5 G4 Professional Bi-Amp 5" Powered Studio Monitor Pair, Black
Our Pick
Image
Name
PRORECK Party 15 Portable 15-Inch 2000 Watt 2-Way Powered PA Speaker System Combo Set with...
Amazon's Choice
Image
Name
Mackie CR4-X Creative Reference Series 4" Multimedia Monitors (Pair)
Good Pick
Image
Name
Edifier S2000MKIII Powered Bluetooth Bookshelf 2.0 Speakers - S2000MK3 Near-Field Active Tri-Amped...
Don't Miss
Image
Name
KRK RP5 Rokit 5 G4 Professional Bi-Amp 5" Powered Studio Monitor Pair, Black
Digital piano can be a source of melodious tunes if you know how to use it, but owning a bad set of speakers can result in poor sound quality. Luckily the options for speakers are limitless, and today we will explore some of the best-reviewed among them.
After thorough research, we have managed to assemble the list of speakers for a digital piano that offers superb performance and sound quality.
List of Best Speakers for Digital Piano
1. PRORECK PARTY 15 Portable 15-Inch 2000 Watt 2-Way Powered PA Speaker System

This portable speaker system is an excellent choice for digital pianos. The package includes an active speaker, passive speaker, two stands, wired microphone, a Speakon cable, power cable, and remote control.
The product possesses multiple convenient features such as Bluetooth, FM radio, USB drive, and SD card. It can be easily paired with multiple smart devices such as iPhone, iPod, iPad, Android devices, etc.
This speaker system features 200W RMS, 2000W P.M.P.O, and a woofer with a 1.35-inch titanium diaphragm compression driver. It also has a built-in equalizer and digital LCD display, which you can use to navigate the menu easily.
This portable speaker system has a ¼-inch mic and RCA line inputs and outputs. It is also equipped with LED lights with 4 colors that provide an excellent light show.
2. Mackie CR-X Series, 4-Inch Multimedia Monitors with Professional Studio-Quality Sound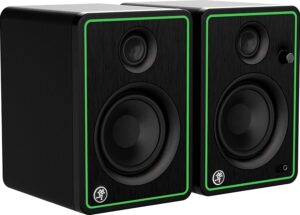 Coming from the Mackie store, these speakers offer exceptional studio-quality sound and are a real powerhouse for creativity and enjoyment. This model features a 4-inch polypropylene-coated woofer which provides superb sound.
The product comes with acoustic isolation cushions that do an excellent job in reducing bass build-up, while silky waveguide design ensures that you get exceptional clarity and sound dispersion.
Since this speaker set is interchangeable, you will save lots of time and effort. Volume and power are easily adjustable using front panel controls, and you are also provided with an option to jack in your smartphone for instant playback.
It is a perfect choice for use with a digital piano and suitable for anyone that wants to have superb sound output inside the household.
3. QSC K10.2 Active 10″ Powered 2000 Watt Loudspeaker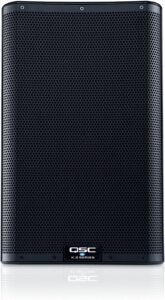 Coming from the QSC store, this 2000 Watt loudspeaker offers a wide range of impressive features and tuning options. It is an excellent choice for everyone who wants to fine-tune their speakers' characteristics without the use of any external mixing board.
This is a very powerful speaker that can deliver up to 2000 Watts and a maximum output of 128dB. It does an excellent job of reducing the bass build-up, which is a very convenient feature for everyone who wants to use it on stage.
The product has an excellent display, so you can easily navigate the menu, choose between multiple functionalities and configure settings like equalization, crossover, etc. It can be used both on big stages and in-home studio environments since it is compact-sized.
The speaker is covered with ABS casing which adds even more to its convenience, elegance, and practicality. It produces loud and clear sound, which will definitely not leave you disappointed.
4. Edifier S2000MKIII Powered Bluetooth Bookshelf 2.0 Speakers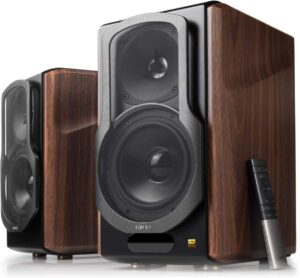 The S2000 MK3 is an excellent choice both from a visual standpoint and its performance. It provides a very quick response rate alongside superb high frequencies. The woofers are made of metal which, as a result, grants exceptional, crystal clear sound.
You can pick one of four equalizer modes – monitor, dynamic, classical, or vocal. The speakers come with an excellent wireless remote control with clearly labeled buttons, which adds even more to their convenience.
Considering all the useful and convenient features that S2000 MK3 offers, it comes at a reasonable price. The only downsides of these speakers are that the connection wire is very long and that they are really heavy and bulky.
These are an excellent solution for digital piano since they offer a crystal-clear sound with multiple useful features. Highly recommended and well worth checking out.
5. PreSonus Eris E3.5-3.5″ Near Field Studio Monitor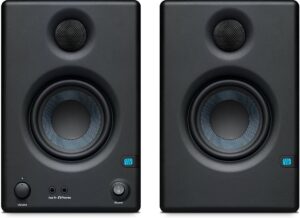 PreSonus monitors are an exceptional choice for mid-range budgets and offer excellent value for small or mid-sized studios within households. They are a superb choice for music lovers, content creators, and everyone that enjoys high-quality sound output.
These monitors come with Studio One Prime and Studio Magic plug-in suite, which are music production programs worth over $1000. They feature 3.5-inch woven composite drivers that produce an excellent bass response with crystal clear sound.
PreSonus Eris E3.5 produces balanced high-frequency sound using 1-inch ultra-low-mass silk-dome tweeters. These are the only monitors in this class and price range that boast acoustic tuning, which enables them to create spotless sound.
The listening sweet spot is very good, although these monitors are generally designed for smaller spaces. Exceptional media monitors and a great choice for video mixing, digital pianos, gaming, and budget music production.
6. Line 6 StageSource L2t 2-Way Powered Smart Loudspeaker with Digital Mixer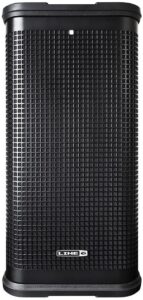 The thing that separates these speakers from the pack is a mixture of multifunctionality and precision of their components. Although they come for a higher price, it feels justified since these speakers offer exceptional value and multiple useful features.
Since this product boasts a digital mixer, hitting musical notes you prefer was never easier. It provides exceptional effects and feedback suppression, all of which are very important for the production of high-quality sound.
These speakers boast a modern design, are portable, and can be stored anywhere with ease. They can also be used for effective on-stage performances due to their multichannel effects.
The product also boasts a bi-amped design that works exceptionally in harmony with other features that produce the best possible quality of sound.
7. KRK RP5 Rokit 5 G4 Professional Bi-Amp 5″ Powered Studio Monitor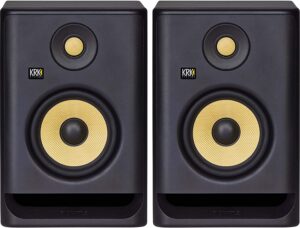 Coming from the KRK store, Rokit RP5 G4, also known as the Rocket 5 G4, is the smallest product in KRK's Rokit G4 series. It is available in black and white colors and boasts seven different styles to choose from.
These studio monitors feature a 5-inch Kevlar woofer alongside a 1-inch tweeter in its bi-amped design, and all of these qualities are responsible for crystal-clear sound. Kevlar is an excellent choice in driver designs since it is very stiff that largely assists in the rapid translation of the transients of your tunes.
You also get an onboard DSP feature EQ that provides you with 25 settings to help you adjust the sound according to your room. These speakers are active, so you do not require external amps.
The matched drivers provide you with an even sound across the board with a surprising amount of detail in high frequencies, which is amazing when compared to other monitors in a similar price range.
8. Samson MediaOne M30 3″ Powered Studio Monitors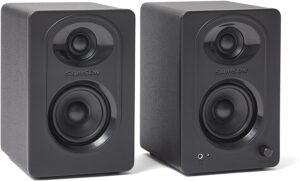 The Samson M30 is a pair of studio monitors that come at an affordable price and are an exceptional choice for DJs or any other music enthusiasts. Although this is not a pair of the most accurate monitors, the low price makes them very attractive for beginners and advanced users who require additional speakers.
The construction of the Samson M30 is made out of wood with a large tweeter casing and a 3-inch woofer. Each monitor gets powered by a 10W amplifier along with a bass boost option in the back.
These monitors are generally better suited for multimedia consumption rather than mixing. The bass boasts mids and highs, making this product an exceptional choice for watching movies and casual music listening.
As far as output goes, household producers will be very happy with ⅛-inch connectors that are way cheaper than XLR cables.
9. SVS Prime Elevation Speakers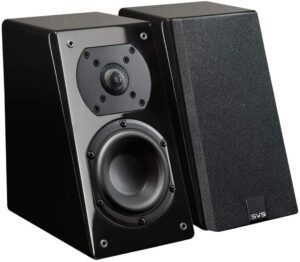 SVS Prime Elevation are extremely versatile speakers that produce amazing sound wherever you decide to set them up. It is an exceptional choice for acoustically challenged rooms, and it is available in black, gloss black, and white colors.
Prime Elevation speakers are very flexible due to their mix of small size, full-range response, angled design, and four-way mounting bracket. They feature a one-inch tweeter that crosses over to the 4.5-inch woofer at 2.5kHz, so the speakers can be angled in any way, depending on how you mount them.
The bass of these speakers is pretty weak, so in case you require better, it is recommended to add a quality subwoofer. Adding a better one will result in sound so good that many people would be fooled into thinking it comes from larger speakers.
The installation is very easy, and these speakers provide a very immersive sound. They have a full-body sound and are well worth checking out.
10. Klipsch RP-502S Surround Sound Speakers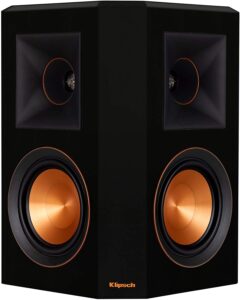 Coming from the Klipsch store, these surround speakers deliver an exceptional theatre-quality sound experience that you can enjoy from your household. Although they come for a higher price, they offer you exceptional features that are worth investigating.
These surround speakers feature horn loading technology that maximizes detail while focusing high frequencies toward the listening area. Klipsch RP 502S provides a very efficient transfer of high-frequency waves, and the phase plug alongside a compressed silicone face ensures a smooth frequency response.
The linear travel suspension diaphragm minimizes tweeter distortion, which provides detailed performance and realistic response. The vented tweeter housing reduces standing waves that tend to create unnecessary harmonics, which results in high-frequency reproduction.
One thing that really sets these speakers apart from the competition is the spun copper cerametallic woofers. They are well-designed, and the materials used in the manufacturing process make these woofers rigid and lightweight, providing minimal distortion and superb efficiency.
How to Choose Speakers for Digital Piano?
Apart from the brand value, price, and durability, there are many aspects that you should take into consideration when choosing speakers for a digital piano. To help you get the best possible product, we have assembled a brief list of guidelines you should follow in the section below.
Size and Portability
Since digital piano speakers come in a variety of sizes and shapes, it is essential to figure out their intended use before spending money. For example, if you require speakers or monitors for small gigs or a household studio, you should opt for lightweight and compact ones. In case you need them for big events, you will need a more powerful set that usually weighs much more and is not easy for transportation.
Equalizer and Mixer
Some digital piano speakers and monitors have built-in equalizers and mixers that provide excellent live performances solutions. If you often play live gigs, you should opt for the speaker with simple controls or a full-range equalization to provide exceptional results and great sound reproduction for the audience.
Design
The design is a very important consideration when purchasing speakers. If you want to connect them to your digital piano, the number of channel mixers the speakers have is essential.
Active or Passive
Both active and passive speakers come with their qualities and flaws. Passive speakers' drawback is that they require amplifiers to produce the sound you desire, while active ones produce crystal-clear sound without the use of amplifiers.
Powered or Unpowered
This factor largely depends on your needs. Powered speakers feature a built-in amplifier and must be plugged into an electrical outlet to work. On the other hand, unpowered speakers are powered by an external power amplifier. Powered ones are a far better solution for digital piano players due to their convenience and ease of use.
Frequently Asked Questions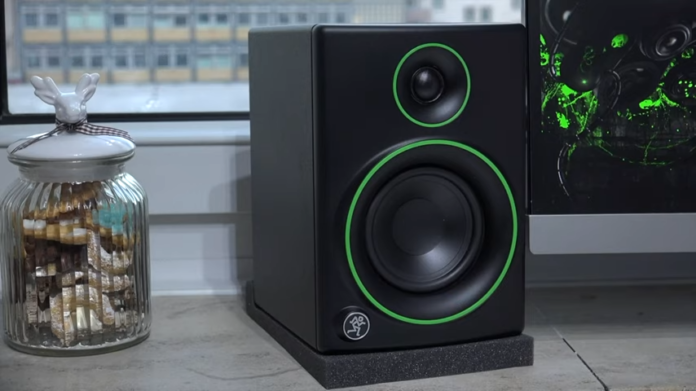 How do I connect digital piano speakers?
You can connect digital piano speakers using line output, which is a port used to connect your instrument to speakers. In case you do not have one, connect it using a headphone jack (you may require an adapter).
Can I connect digital piano directly into an audio interface?
Although digital pianos have built-in speakers, they are not very powerful, and you need an alternative that an audio interface can provide. You can only connect your piano directly to the audio interface if it has a line input.
Does the surround system work with digital pianos?
It can work in case you have a digital piano with separate outputs for the left and right channels. It is uncommon to use a surround system for playing music, but it is well worth trying out if you already have a home theatre setup.
What is a crossover?
A crossover is a device placed inside the speakers that divide the sound into separate frequencies and sends them to their drivers. Low and mid frequencies are sent to the woofer, while high ones go to the tweeter.
What are the benefits of purchasing speakers for digital piano?
There are numerous benefits you get by getting speakers for a digital piano. One of the biggest benefits is that you can perform with them publicly without fear that you will not get sufficient coverage. Speakers help you perform better since they emphasize hidden sounds when playing the piano.
Final Words
Purchasing appropriate speakers for digital piano requires attention to detail and thorough research. Make sure to buy within your budget and to purchase the products that come from trusted and renowned brands.
The options we have provided are a good place to start your search since they deliver exceptional performance and cover various budgets. Look for second opinions and pay attention to customer ratings because only then will you get a fine look at the features of the product and make an educated choice that is worthy of your investment.
Check out some other picks from Amazon also:
Donner DKA-20 Keyboard Amplifier 20 Watt Keyboard AMP with Aux in and Two Channels, Bass Guitar Amp,...
【Equipped with two speakers】The 20-Watt Electric Keyboard Amplifier is equipped with two speakers (LF: 8-inch woofer, HF: 2-inch tweeter,...
【Unique design for keyboards】Perfect for electric keyboard practice, street performances, karaoke with friends, band performances, and outdoors...
【High efficiency and super durability】This 2-channel keyboard amplifier is extremely versatile with two inputs and separate volume controls for...
【Two channels】Includes two 1/4" instrument inputs, 3-band EQ, 1/8" auxiliary input jack for jamming along with media player or CD, 1/8" headphone...
【Supports microphone input】With a maximum gain of 48dB, this keyboard amplifier supports microphone input for clean and warm tone.
Peachtree Audio M25 Powered Speakers (Pair) - Piano Black
5.25 inch fiberglass woofers; 1 inch soft-dome tweeters; 2 x 50 watts of built-in power; real wood cabinets
DIGITAL AND ANALOG INPUTS - 24-Bit/96kHz USB and Optical digital inputs; full-size 1/4 inch RCA L/R analog inputs switchable between AUX and built-in...
ENHANCED FEATURES - wireless Bluetooth streaming; Subwoofer output for additional bass; 5V USB charging port to keep your mobile device charged
CONTROL - Choose your input and control the volume from the IR wireless remote control or right on the front panel of the speaker; front panel LEDs...
Removable speaker grills included; desktop stands available separately
Nord Piano Monitor V2 Active Stereo Speakers (Price is per pair)
Exclusively engineered for optimal dynamic reproduction of the electric and acoustic pianos in the Nord Piano Library
A new design allows the brackets to mount directly to the bottom of the speaker; brackets now included
They feature an additional auxiliary audio input for connecting a laptop or smartphone; perfect for playing along, rehearsing or just listening to...
Included: 2 x Nord piano monitor speakers; piano monitor brackets; stereo audio cables (2 x 1/4"), 0.5m and 1.5m; mono audio cable 1/4" between left...
Mountable on Nord Piano 4, Nord Grand & Nord Stage 3 Rev b; Dimensions: 14" x 11" x 16"; 18 lbs.
JBL Professional 305P MkII Next-Generation 5-Inch 2-Way Powered Studio Monitor
MkII series features next-generation JBL transducers, new Boundary EQ, and a sleek new design
Updated HF and LF transducers: new design improvements result in optimized damping for superior transient response and impressive deep bass with lower...
New boundary EQ: restores neutral low frequency response when speakers are placed on the work surface and adjacent to walls
Sleek, modern design provides a dramatic flair to any studio
Broad sweet spot: neutral frequency response across a wide area allows you to fine-tune your mix even while listening off-axis
Logitech Z207 2.0 Multi Device Stereo Speaker (Black)
Versatile setup with speakers that connect easily to computers and other devices via Bluetooth wireless or 3.5mm cable
Logitech Easy-Switch technology lets you seamlessly switch between audio devices Just by pausing the Audio on one device and pressing play on the...
Each speaker has one active/powered driver that delivers full range Audio and ONE passive radiator that provides bass extension.
On-speaker headphone jack Plus convenient controls for easy access to Bluetooth wireless pairing, power and Volume adjustments, Bluetooth version: 4.2
Works with Bluetooth enabled devices and any device with a 3.5mm input including a computer, television, smartphone, tablet and music player